With the four day long Hi-Rez Expo concluding late last night which was filled with intense action, heartbreaks, free rewards for simply watching their streams and content reveal for their games such as Smite.
There's a few pieces of information that may have silently gone unnoticed amidst all the action, especially for their free-to-play hero-shooter, Paladins that's currently in open beta on the PC platform.
For starters and possibly the biggest news for the game is that Paladins is getting ready to receive a new map for their siege game mode called Stone Keep. Which sees the two opposing team fighting one another in a castle based on a fantasy based setting.
Alongside the reveal of the Stone Keep map, Hi-Rez released a fly through of the map for those who weren't able to attend Hi-Rez Expo and see the map in action themselves. Check out the video below:
Aside from the new map for Paladins, Hi-Rez has also revealed new customization items for Ying which turns her into a Genie and comes with a custom voice pack.
However, that's not all Hi-Rez revealed as whats to come for Paladins. As they've also briefly talked about the playerbase can expect beyond the OB 41 patch that will be available sometime this week for the PC.
As Viktor is set to receive the "Code Green" skin which is very reminiscent of those green toy soldiers that you might have seen when you were a little kid. The skin which is set to be available once OB 42 is live comes with the following pieces of equipment:
4 different bodies
4 heads
4 weapon styles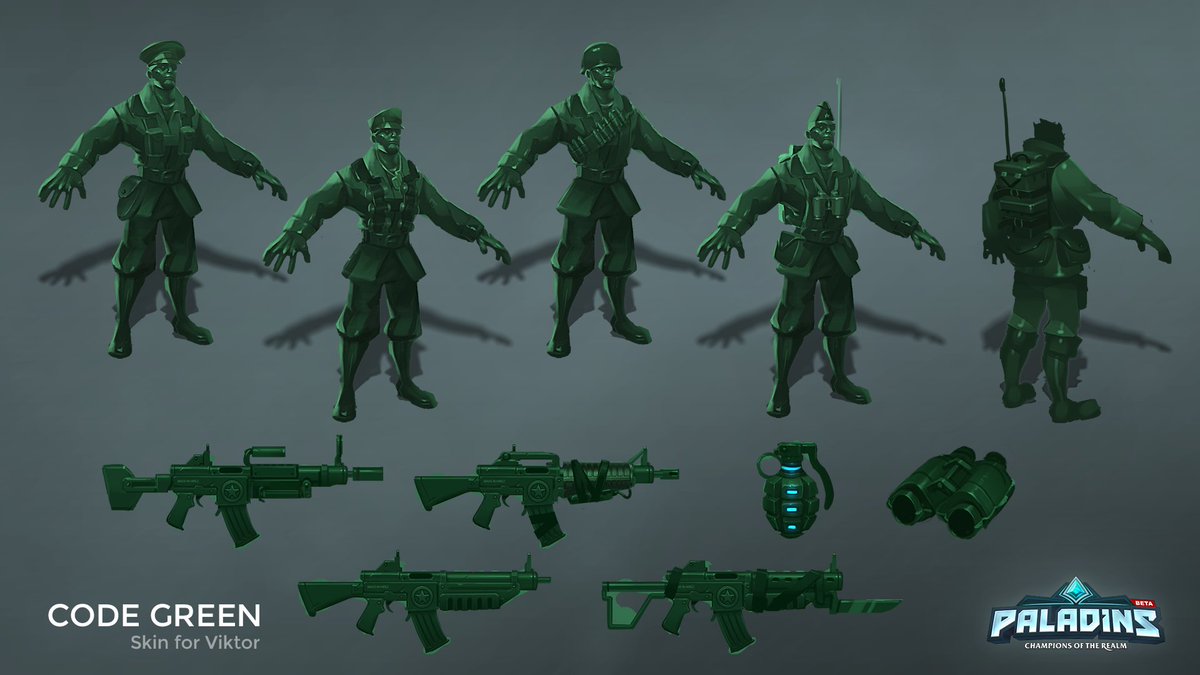 Judging from the content of this skin, you may want to save up some of your crystals if you plan to pick this skin. As it looks to be a pretty pricey skin.
Along with the Code Green skin for Viktor, Hi-Rez has also briefly talked about the next character to be released for Paladins, Torvald. Who aside being the game's first front-liner in quite awhile as the previous two characters filled the damage role. As for what he's able to do, Torvald can project shields to his team mates and steal shields from other front liners and in turn charging his own shield.
Currently, there's no time frame as to when the console version of the game is set to receive this patch as the PlayStation 4 and Xbox One are set to receive the OB 40 patch "soon" that brought with it the latest champion, Tyra.
Paladins is a free-to-play hero shooter that's currently in open beta for the PC and closed alpha on the PlayStation 4 for and Xbox One platforms. For those who are interested in getting a chance to play the game on consoles can do so by signing up for the PlayStation 4 or Xbox One versions.
- This article was updated on:March 8th, 2018